Our school parish - St Lawrence's Church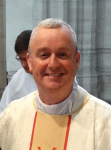 Fr Paul Kyne comes to school to help us celebrate our school masses, he is also present at our weekly class assemblies and other school events.
Parish mass times
Sunday Mass Times
Sun 8.30am, 10am & 11.30am
Weekday Masses:
Monday, Wednesday – Saturday: 9:30am
Tuesday: 9:45am
Morning Prayer of the Church:
Sat 8:45am
Sacrament of Reconciliation:
Saturday Morning – 11am – 11:30am.
Saturday Evening – Before and After the 6.30pm Mass
St Lawrence's is a busy, friendly parish with a large number of lay people assisting in various ministries, sacramental preparation, and organizations that make up our parish family.
Close links are fostered between the parish and the school. Many of the children along with their parents are involved in the parish preparation programs for the First Holy Communion and sacrament of Reconciliation. After making their First Holy Communion children are invited to become altar servers from Year 3 onwards
Parish registration forms
Parish contact details
Email: sidcup@rcaos.org.uk
Telephone: 020 8300 2480
Website: www.stlsidcup.org
Address: 1 Hamilton Road, Sidcup, Kent. DA15 7HB